Israeli Prime Minister Benjamin Netanyahu fired a key cabinet ally on Sunday, complying with a Supreme Court ruling ordering him to do so and deepening a gap in the power of the courts.
Netanyahu announced that he would fire Aryeh Deri, who serves as Minister of the Interior and Health, at a meeting of his Cabinet. Israel's Supreme Court ruled last week that Deri could not serve as a cabinet minister due to a conviction last year for tax crimes.
The court's ruling came as Israel is embroiled in a dispute over the power of the judiciary. Netanyahu's far-right government wants to weaken the Supreme Court, limit judicial oversight and give politicians more power. Critics say the move upends the country's system of checks and balances and jeopardizes Israel's democratic foundations.
The plan has drawn harsh criticism from top legal officials, the chief justice, former lawmakers and tens of thousands of Israelis who have repeatedly come out to protest the reform.
According to his office, Netanyahu told Deri that he was removing him from office with «a heavy heart and great sadness.»
«This unfortunate decision ignores the will of the people,» Netanyahu told Deri. «I intend to find any legal way for him to continue contributing to the state of Israel.»
Deri said he would continue to lead his party and help the government advance its agenda, including legal reform.
Israeli media, citing police, said some 100,000 people were in Tel Aviv protesting Netanyahu's judicial reform plans on Saturday night.
Demonstrators filled the central streets of the coastal metropolis, raising Israeli flags and banners reading «Our children will not live in a dictatorship» and «Israel, we have a problem.»
"This is a protest to defend the country," said opposition leader and former prime minister Yair Lapid, who joined the protest. «People came here today to protect their democracy.»
"All generations are concerned. This is not a joke," said Lior Student, a protester. "This is a complete redefinition of democracy."
Other protests took place in the cities of Jerusalem, Haifa and Beersheba.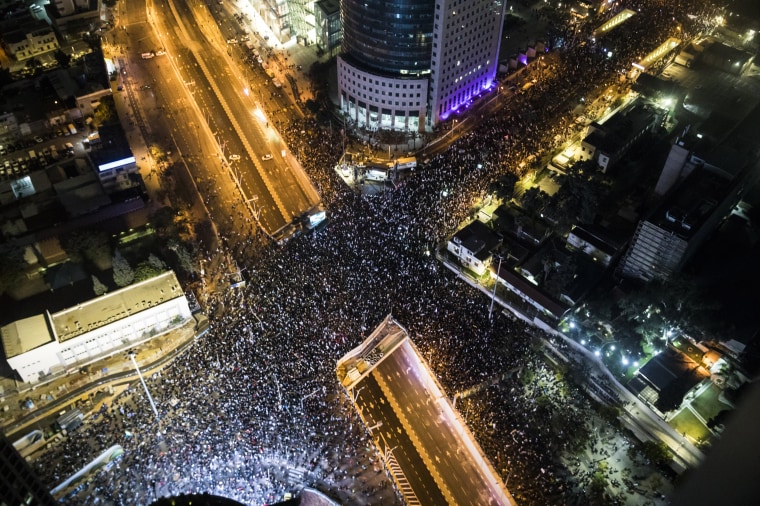 Earlier this week Netanyahu, who is on trial for corruption, vowed to continue with plans for judicial reform despite protests. Opponents say the changes could help Netanyahu evade conviction in his corruption trial, or make the court case go away altogether.
On Friday, Netanyahu's coalition was put to a new test after a disagreement among cabinet members over the dismantling of an unauthorized settlement in the West Bank.
Defense Minister Yoav Galant, a member of Netanyahu's Likud party, ordered the removal of the outpost, upsetting a pro-settlement cabinet member who had issued a directive to postpone the eviction pending further discussions. .
Deri's dismissal is also expected to shake up Netanyahu's ruling coalition, a union propelled by ultra-nationalist and ultra-Orthodox parties, including Deri's Shas, which is the third-largest ruling party. While some Shas lawmakers threatened to shut down the fledgling coalition following the court ruling, it is expected to survive Deri's absence and try to craft legislation that would pave the way for his speedy return.
Netanyahu is now expected to name other Shas members to replace Deri, at least temporarily.