Cleveland Guardians fans got to see more than just a baseball game Saturday when fans in the stands at Progressive Field were seen in a melee.
The fight occurred during a game between the Guardians and the Los Angeles Angels.
CLICK HERE FOR MORE SPORTS COVERAGE ON FOXNEWS.COM
It is not clear what sparked the fight. A video posted to social media showed a man in a blue jacket holding nachos in heated conversation with a man sitting below him. The man, in a red shirt and blue cap, got up from his seat and began to answer.
A woman in a red shirt who was standing next to the man in the windbreaker also began to speak. It seemed that the woman in the red shirt spat at the man in the red shirt and that's when things got really heated. The man slapped the woman across her forehead and pushed her onto a seat, and her proverbial gloves came off her.
NHL WINGER GARNET HATHAWAY SNARES FOUL BALL AT RED SOX GAME
The man in the jacket and the man in the red shirt began to chase each other as passersby tried to break it.
No charges were filed in the incident, according to TMZ Sports.
Cleveland won the game on Saturday, 8-6. Steven Kwan and Ahmed Rosario each had three hits in the game. Josh Naylor and Andres Gimenez each homered.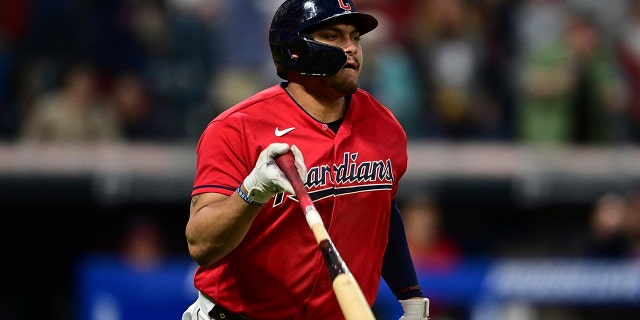 CLICK HERE TO GET THE FOX NEWS APP
The Guardians scored six runs in the eighth to win the game.