LOS ANGELES — As a series of atmospheric rivers pummeled California with heavy rain and residents braced for potential flooding, the state began releasing millions of gallons of water from a major reservoir Friday, despite ongoing dry conditions. .
The release on Lake Oroville, the state's second-largest reservoir and home to the nation's tallest dam, was the first since 2019 and came as a precaution against flooding downstream communities in the event of a potential spill.
The shift from water conservation to flood prevention is just the latest whiplash of winter weather in California, where 85% of the state suffered a severe drought three months ago, according to the US Drought Monitor. Now only the 19% of the state falls into that category.
"Water management in California is complicated and it gets even more complex during these challenging weather conditions where we see changes between very, very dry; very, very wet; dry out again," Karla Nemeth, director of the Department of Water Resources, said at a briefing on Friday. «Now we're back in the wet.»
An atmospheric river known as the «Pineapple Express» because it carries warm subtropical moisture across the Pacific from near Hawaii is expected to melt snow at lower elevations. California's mountain ranges have packed a significant amount of snow this winter due to an onslaught of rain from nine atmospheric rivers and storms fueled by gusty arctic air.
Massive snowpack at high elevations is expected to soak up the rain, but melting snow at elevations below 4,000 feet prompted the state Department of Water Resources to activate its flood operations center.
Flood control water releases were underway or planned for some reservoirs that were depleted during three years of drought and have been filling up with extraordinary winter rains and snowfalls.
The idea of ​​releasing water that will eventually flow into the Pacific during a dry season may seem counterintuitive, but state officials said they should prepare for the possibility of flooding.
«The primary management goal of flood operations is to reduce downstream flood risk rather than conserve for the next dry season,» said Daniel Swain, a climate scientist at the University of California, Los Angeles, and the National Center for Atmospheric Research. .
«This suggests that the inlets are large enough and the levels of the reservoirs are high enough that officials do not want to store more water in them for safety reasons,» he added.
California has a system of about 1,400 human-made surface reservoirs and thousands upon thousands of miles of levees to manage surface water. Around two dozen large reservoirs are responsible for more than half of the total storage.
Reservoirs are designed not only to store water, but also to manage water flows during periods of heavy rain or snowmelt so that downstream communities are not flooded.
Of the state's 17 major reservoirs, seven are still below their historical averages this year. Water releases are also expected at Friant Dam in central California to free up space at Millerton Lake, according to the US Bureau of Reclamation.
"After three years of drought and low lake elevations, it's really nice to see the lake growing from a standpoint of providing water to the local community and also to water users across the state," said Ted Craddock, deputy director of the State Water Project.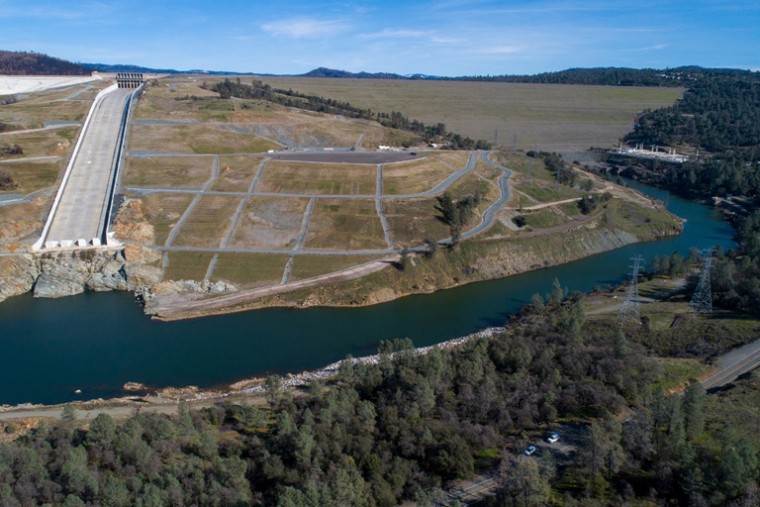 Because much of California's water supply comes from high-altitude snowmelt, water officials expect reservoirs to continue to fill through the spring.
As of this week, snowpack in California's Sierra Nevada, which provides about a third of the state's water supply, is more than 180% of the April 1 average, when it is historically at its peak. .
"We know that dry conditions will return to California, and it's really these moments that we have to capture in order to weather future dry conditions," Nemeth said.
oroville lake supply has increased 180 feet since December 1 and was only 60 feet below capacity before Friday's storms. Capable of storing more than 3.5 million acre-feet, officials planned to release about 15,000 cubic feet per second. One acre-foot supplies enough water for two typical homes for a year, water officials say.
The lake is crucial to the State Water Project, which provides water to some 27 million residents and flood protection to downstream communities.
The reservoir was repaired in 2018 after a massive flood collapsed the main spillway, forcing the evacuation of more than 180,000 people.
Craddock expressed confidence in the 1960s Oroville Dam, saying the spillway improvements have been «rebuilt to modern standards, and we are very confident that it will be able to pass the flows entering Lake Oroville.»