On TikTok, parents and non-parents alike have been thirsting for a member of one of the biggest kids' acts in the world: The Wiggles' new purple Wiggle.
John Pearce, 31, has been a member of the Australian children's entertainment group since 2021, but in the past week, he has seen a surge of attention, earning him the title of TikTok heartthrob.
New attention has focused on Pearce, who sings lullabies and original songs like «I'm John, I'm Strong!» – likely stems from a video Pearce posted this week in which he participated in a trend stemming from the movie «Zoolander.»
The trend develops when two different people or characters collide with each other.
Originally, Pearce wanted to film the clip with the original Purple Wiggle, Jeff Fatt, while the two were on a recent tour together. When Pearce returned home and realized that he had forgotten to film the clip, he decided to go it alone.
In it shortenPearce's purple Wiggle character bumps into his everyday self clad in a cropped T-shirt, revealing his toned, tattooed arms.
All the comments on the video share a similar sentiment.
«Bro I'm going to start seeing the wiggles and I don't even have a kid,» one response read.
Pearce's «Zoolander» video had more than 4.1 million views as of Friday afternoon. Pearce's other videos like the purple wiggle also had millions of views, and the hashtag «#purplewiggle» had more than 1.2 million views on the platform on Friday.
Pearce said he's flattered by the attention during a Zoom interview with NBC News.
«The last few days, I've definitely been informed about my online demographics. It's great,» Pearce said with a laugh.
Pearce rose to fame as a member of the song and dance group Justice Crew, which won the fourth season of Australia's Got Talent in 2010.
While the Justice Crew hasn't toured during the pandemic, Pearce had a lucky break when he ran into Anthony Field, who has been with The Wiggles since he co-founded the group in 1991.
Pearce said a conversation in a pizza parlor about the music industry led to a friendship with Field, who invited him to The Wiggles' headquarters. They started a project that led to fruit salad tva YouTube exclusive series featuring a diverse cast of eight Wiggles.
Ultimately, Pearce was asked to join full-time.
«It's a very rewarding job…you impact the lives of these families in different ways and you see it at gatherings and shows, from Australia to Canada,» Pearce said. «I'm lovin 'it.»
One of his favorite parts of being in The Wiggles is incorporating the dance skills and physique he honed while on Justice Crew into his performances as the purple Wiggle.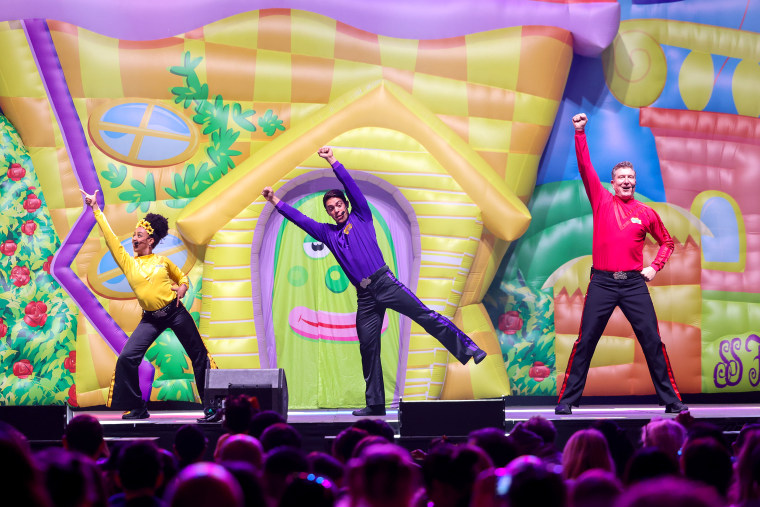 «It's really exciting, and for young children, especially young children, they really learn the break dancing and athleticism that I try to bring to The Wiggles, and it's great that they see me as the 'Spider-Man' or the superhero from The Wiggles,» Pearce said.
After last week, one thing is clear: it's not just the young who are interested in Pearce.
"It has definitely opened up a whole new world of fans," Pearce said.
Many of the videos posted to social media about Pearce include young women and mothers expressing surprise that their new celebrity crush turns out to be a member of a decades-old boy group.
In one video, Evelien Langeveld, 36 and mother of one, fans herself as she watches Pearce during a Wiggles performance. Taylor Swift's «Wildest Dreams» punctuates the clip, setting the mood as Langeveld appears to fall in love.
Langeveld, who lives in Sydney, said he discovered Pearce after his 21-month-old son, Archie, asked him to watch The Wiggles' Christmas version of the song «Baby Shark». On repeat.
«That's when I was like 'Ohhh hi John! Mum doesn't mind seeing this either' Hahaha!» Langeveld said in an email.
In another video, a TikToker suggested following The Wiggles as they go on tour. The group is scheduled to tour the United States this fall, the group's spokesman said.
«In my era of wiggling, who wants to go the rest of the tour with me?» TikToker @onetoomanytwizzlers wrote.
TikTok user @KaylaMichelleFisher stated that her entire «For You» page is filled with videos of The Wiggles.
"I really fell in love with the purple wiggles thirst traps", @KaylaMichelleFisher saying in the video. «I'm not mad at it. Keep it up, Wiggles. Keep it up.»
TikTok's love for Pearce has been slow, according to some of his fans. TikToker Daphne Flack, 22, said she remembers seeing Pearce on her «For You» page last year when people started calling him «hot» Wiggle. But Flack, who is from Australia but lives in New York City, said Pearce's new videos have created a new surge of attention, and once again she's all over her «For You» page.
«He's so valuable and healthy and I just love him,» Flack said.
Pearce said she has been touched by all the attention on TikTok, which she says has been only positive.
He added that he looks forward to meeting his new set of fans when The Wiggles tour later this year.
«It's really cool, and some of the fans don't even have children and they say it's given them a reason to start a family because they want to see The Wiggles, which is great,» Pearce said.